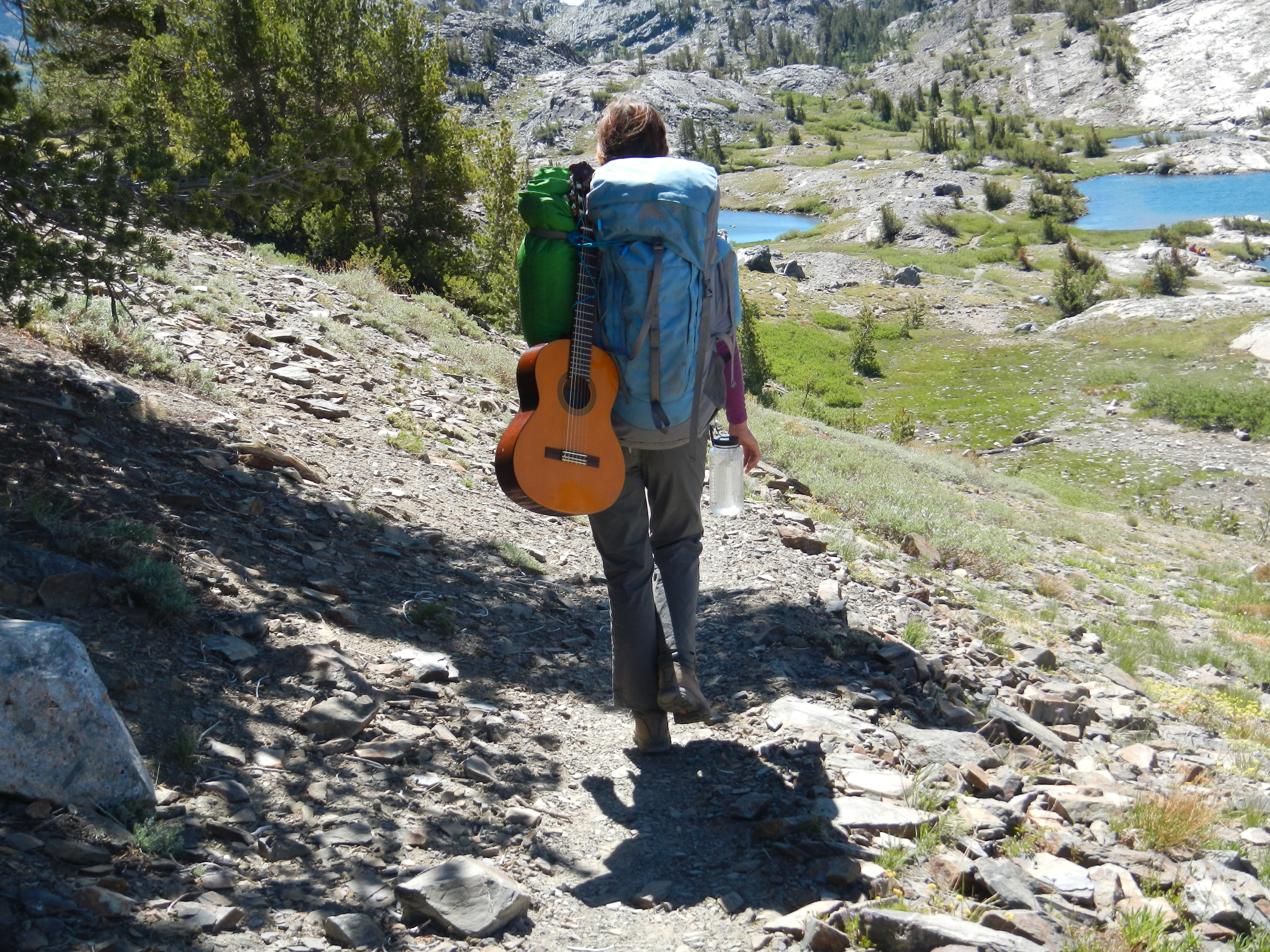 In June of 2012, my friend and roommate from grad school, Anna, and I hiked part of the John Muir Trail. It was a dream that'd been festering within me for about a year, since I had gotten into backpacking, and I was ecstatic when Anna suggested doing it. Her job would be to make the itinerary and carry the tent and our double wide sleeping bag; I'd make, assemble and carry all the food.
We started at Tuolumne Meadows because Anna had already hiked much of Yosemite Valley and also because it was supposed to be easier getting a permit there than in the Valley.
Days 1 & 2: Tuolumne Meadows to Upper Soda Springs
I don't know that I've ever seen land more beautiful than what I saw on this trip. There is a reason the Sierras are called the Range of Light. It seemed that every time I turned a corner or stoped to look around, my breath was taken away from the sheer beauty of the land.
The year we hiked the JMT, a huge storm had blown down numerous trees. Trail workers were struggling to clear all the blown downs from the trails, but there were stil so many that we had to climb over or around. To simplify things, Anna and I decided to take the Pacific Crest/ High Sierra Trail branch instead of the JMT between Thousand Island Lake and Devil's Postpile.
We had only one resupply planned for the entire trip, and that was at Muir Trail Ranch. With only one resupply and because I had overestimated how much were would eat, I was carrying a whole lotta food! I hadn't anticipated we'd both loose our appetites on the trail, me because of the altitude and Anna because of the mosquitoes. (She had rather sit in the tent free of the little monsters and go hungry.) Since so much of our food wasn't getting eaten, I gave it away to PCT hikers I met along the trail- they were all ravenous!
Days 3 & 4: Upper Soda Springs to Silver Pass Lake
I got my first blister on Day 1 going up Donahue Pass. Each day, I had new blisters and they were all getting bigger! Unfortanely, I hadn't learned yet about toe sock liners and how to properly treat blisters. I was using a needle to pop them, moleskin to cushion them, and athletic tape to cover them. BUNK! They continued to swell and ooze until, before reachig Silver Pass, I met a couple of PCT hikers who must've taken pity on my sandalled feet.  They taught me the best and last method I've ever used:
Using a clean needle, thread your blister and leave about 0.25 inches of thread on either end of the blister. This wicks out all the fluid and allows the blister to drain. Leaving the thread in, cover the blister with athletic tape before putting on socks and shoes. Whenever possible, let the blister air out with the thread still in it. Take the thread out when the blister seems to stop oozing, but before it completely dries.
In addition to blisters, my knees had begun to hurt. It didnt seem too bad at the time, and everything else about hiking felt great, like my cardio and muscles, so I wasn't really concerned about whether I'd be able to finish the trail or not.
Days 5 & 6: Silver Pass Lake to Muir Trail Ranch
It was around Silver Pass Lake when I realized I had some serious issues with my knees. Little did I know I had torn cartilage in both knees from a previous injury, exacerbated by patellar tracking issues. Every downhill step was excrutiating and I was falling far behind Anna. By the time we were decending Seldon Pass, which is 8 miles completely downhill, I could barely stay on my feet. My knees could no longer support me and as I came down the final gravelly switchbacks into Muir Trail Ranch, I alternatively fell on my ass, got up for a few steps, and repeated.
I was in tears by the time I got into the Ranch, but the residents were absolutely amazing. The 80 year-old matron of the ranch patted me on the back and said things like, "This, too, shall pass" and "A day has not been wasted if a memory has been made." Later as I sat at the outdoor table whimpering and beating myself up over failing to do something as simple as walk, an older rancher went to his room and brought out a framed verse. It was Max Ehrman's Desiderata and it was just lovely and uplifting to read at that moment.
After collecting our resupply bucket, Anna and I decided to hang out for a day or two to see if my knees improved or if we should bail out through Florence Lake. She spent the afternoon and next morning fishing in San Joaguin River while I lounged. I enjoying the discovery of toe socks (which I purchased from the Ranch) and soaked in the local hot spring.
Day 7: Escape from Muir Trail Ranch!
To be sure I didn't injure myself further, I decided it was better to bail out then and there than to push on and potentially never be able to hike again. While hanging around the next morning, we met a couple of screenwriters from LA day hiking in from Florence Lake. They said they could give us a ride from the lake to a general store where maybe we could hitch hike into town. We packed up in record time and hiked out. Anna must've been carrying 50 lbs. on her back with all the food from our resupply box. I told her to leave it, but she insisted on taking it— probably because she felt sorry for me putting so much work into the food and then having to bail.
Once on the Florence Lake Ferry, we met a couple of fishermen, Steve and his son, Kyle, who said they could drop us off in Fresno the following day. So, instead of the screenwriters from LA, we camped with the fishermen at Portal Forbay Campground. It was a lovely spot and Anna and I tried to show our gratitude by making pumpkin pie for them (from our now excess dehydrated food).
The following morning, Steve drove us a couple hours down to Frenso Airport where we rented a car. We said a huge "Thank you!" and our goodbye's to Steve and Kyle. Then we drove several hours back to Yosemite where my car was parked in Tuolumne Meadows. While I drove my car and Anna drove the rental, we went back to Fresno to return the rental, and then it was 4.5 hours back to Santa Barbara. We got in at 4:00 in the morning, but it WAS WORTH IT!