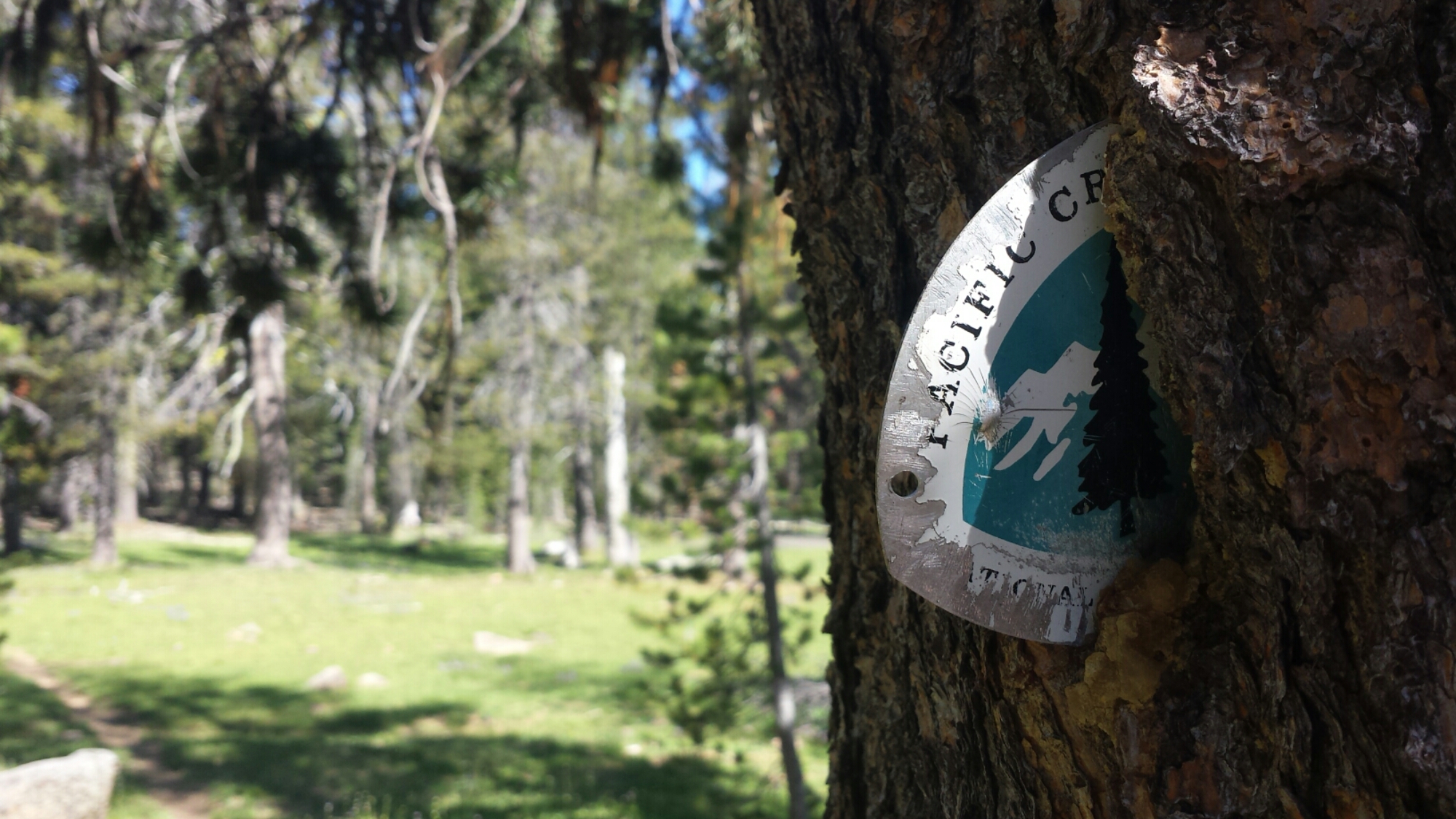 June 12- 14.5 miles, camping at Frog Spring
After taking an entire day of rest, also called a Zero Day, I was ready to tackle the 5,000-foot climb out of the Belden Town canyon. Last night, I camped on the banks of the Feather River, near the Belden Town Resort with a 22-year-old lady hiker named Haley. We took a couple dips in the river and enjoyed the warm weather with a couple of beers and lots of eating. It was a very lazy day, to say the least. I almost lost my phone, though, when the river current increased and flooded the beach, along with my cell phone and external battery. I had to buy three lousy boxes of instant rice from the resort store and bury my phone in it. It survived- lucky me! The Beldon staff saved the bag of rice and labeled it "The Phone Dehydrator" for the next idiot who leaves their phone on the beach.
I've been dreading this climb for several days, but before I knew it, I were past the hottest and most exposed part of the trail. It's amazing how fast you can hike after three cups of coffee and a good night's sleep. The air was heavey with humidity and the sweet smell of Northern Californian wildflowers, all of which are in bloom right now.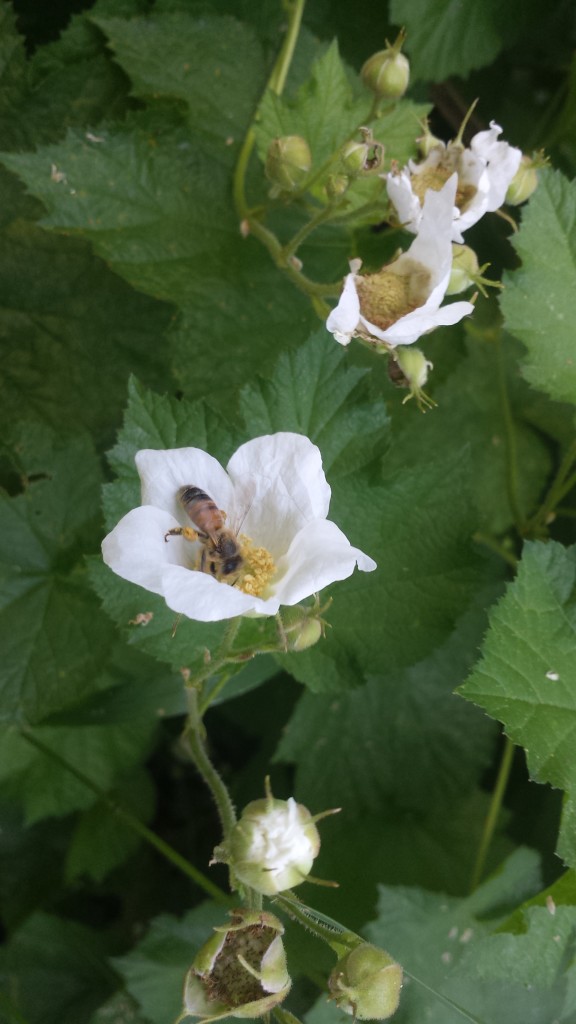 With "I'll be back" hiking in front of me, he kept kicking up all the pollen from the flowers and grasses. I could see the clouds of it billowing behind him and I then had to walk through it. It gave me the worst allergies I've ever had hiking. I was sneezing and blowing my nose in my hanky for miles. Eventually, I couldn't stand it and I also couldn't hike as fast anymore, so I dropped back and hiked alone.
All morning, I focused on the place where the trail crossed Chips Creek. I knew there would be an opportunity to dip in the shallow pool and lounge for a bit. The water was almost too cold, but it felt wonderful to go in quickly and dunk. I then grabbed my bag of Fritos and water bottle and threw my sleeping pad out on a large rock to dry off. It was HEAVENLY!
Climbing higher past Chips Creek became more and more beautiful. Section N and Lassen National Forest is one of my favorite places on the PCT, excluding the initial climb, of course. There were so many downed trees as I crested the mountain. One of the things I'm most afraid of are trees falling on me while I sleep in my little tent. This is why windy nights really freak me out. Luckily, it's a beautiful night with no wind and minimal mosquitoes.
It's nice camping with "I'll be back" again. He eats all my leftovers that I can't manage. We joked about this being a symbiotic relationship because he gets more food and I don't have to carry it! He's also fun to talk with because he's interested in many things, he's opinionated, and he screws up his words a lot, which is always entertaining. He's particularly chatty tonight because he's had way too much sugar. Even now, while I write in my tent, he's yakking on about something over in his tent. Makes me laugh.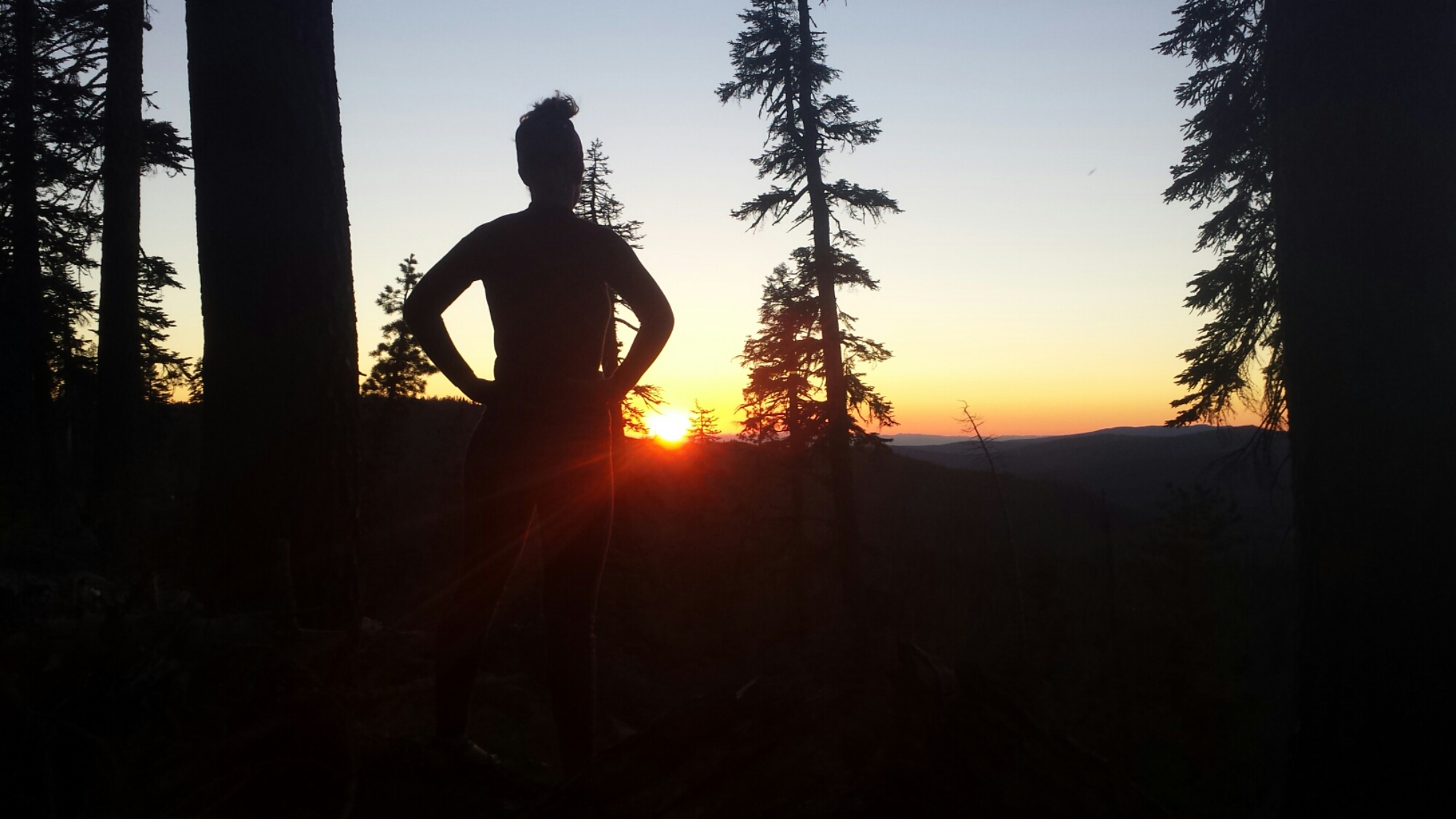 June 13- 20.5 miles, camping below Butt Mountain
Yup, you read that right. It is indeed called Butt Mountain. What I want to know is what's the difference between a butt and a butte, and is it pronounced with a short "u" or long "u." There are also a number of PCT jokes that fly around about the distance from Butt Mountain to Dick's Pass, but I won't get too crass and go into them here.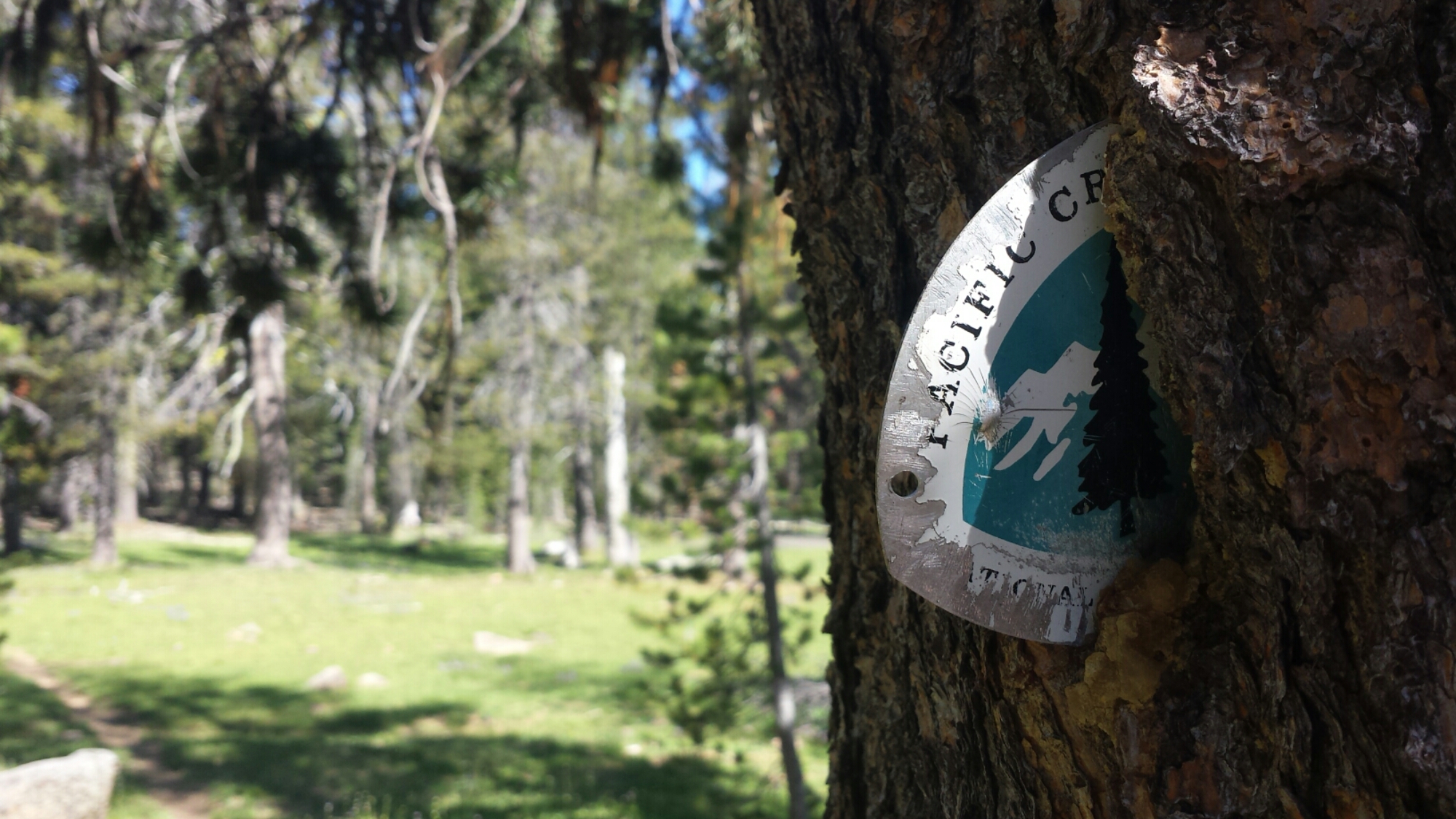 I got off to a late start this morning: 9 AM! I was trying to call Drakesbad to find out if the guest ranch had a computer I could use and there was a bit of reception at Frog Spring. I didn't get an answer because it's Saturday and no one picked up, but, I decided, that if they didn't have one, I could wait until I got to the library in Burney.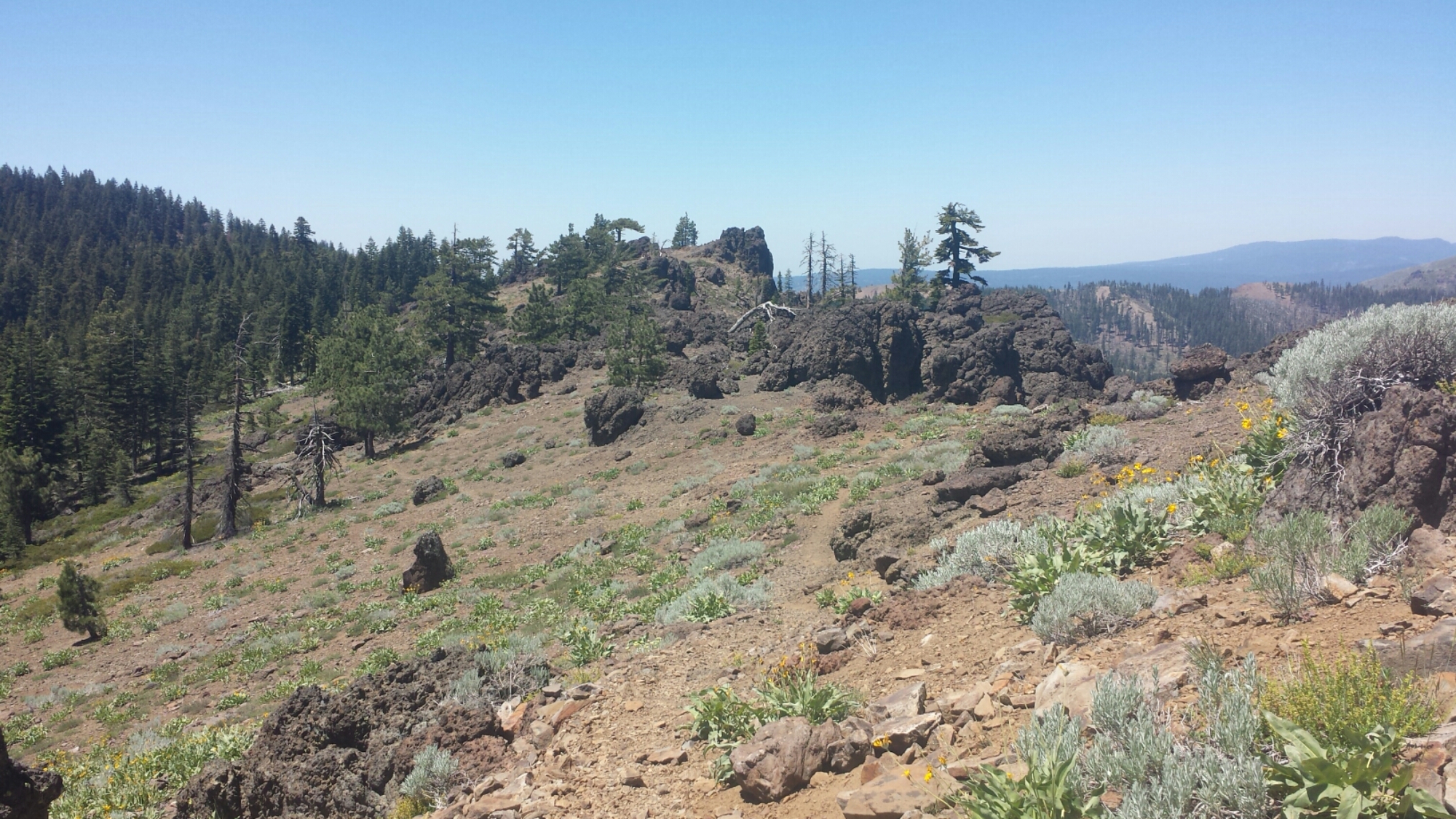 The hike was pretty easy today, without many large changes in elevation. The only challenge was that all but one of the water sources for the day were off-trail by 0.3 to 0.5 miles, and usually down a steep spur trail. They were also spaced further apart than in any of the recent sections through the Sierras. This meant having to either carry water for 8 to 12 mile chunks or adding more mileage by visiting more water sources. I chose to just carry more, and it was the heaviest my pack has been since Echo Lake!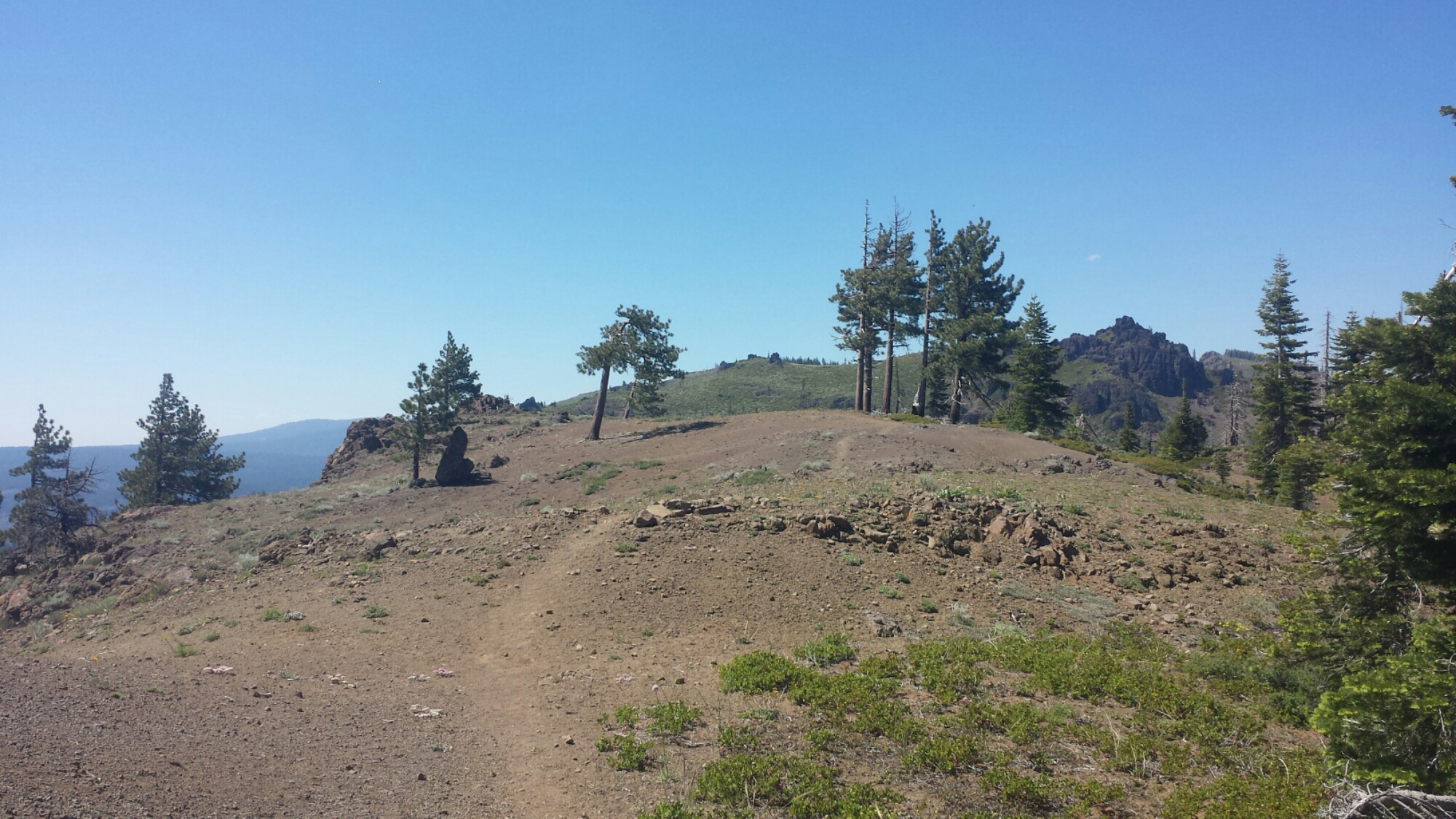 The trail provided fantastic views of distant Lassen Peak and Brokeoff Mountain. At 10,460 feet tall and 27,000 years old, Lassen is a relatively young, active volcano and is part of a chain that extends all the way through Cascade Range. It's technically a lava dome and it last erupted in 1915. It's much older neighbor, Brokeoff, over 500,000 years old, used to belong to the ancient stratovolcano called Mount Tehama, now-eroded to merely Brokeoff Mountain, and was once much taller than Lassen is today.
I hiked alone for most of the day, but later in the day I met Katia and Olivia from Washington DC. They're cousins and are hiking various sections of the trail for the entire summer.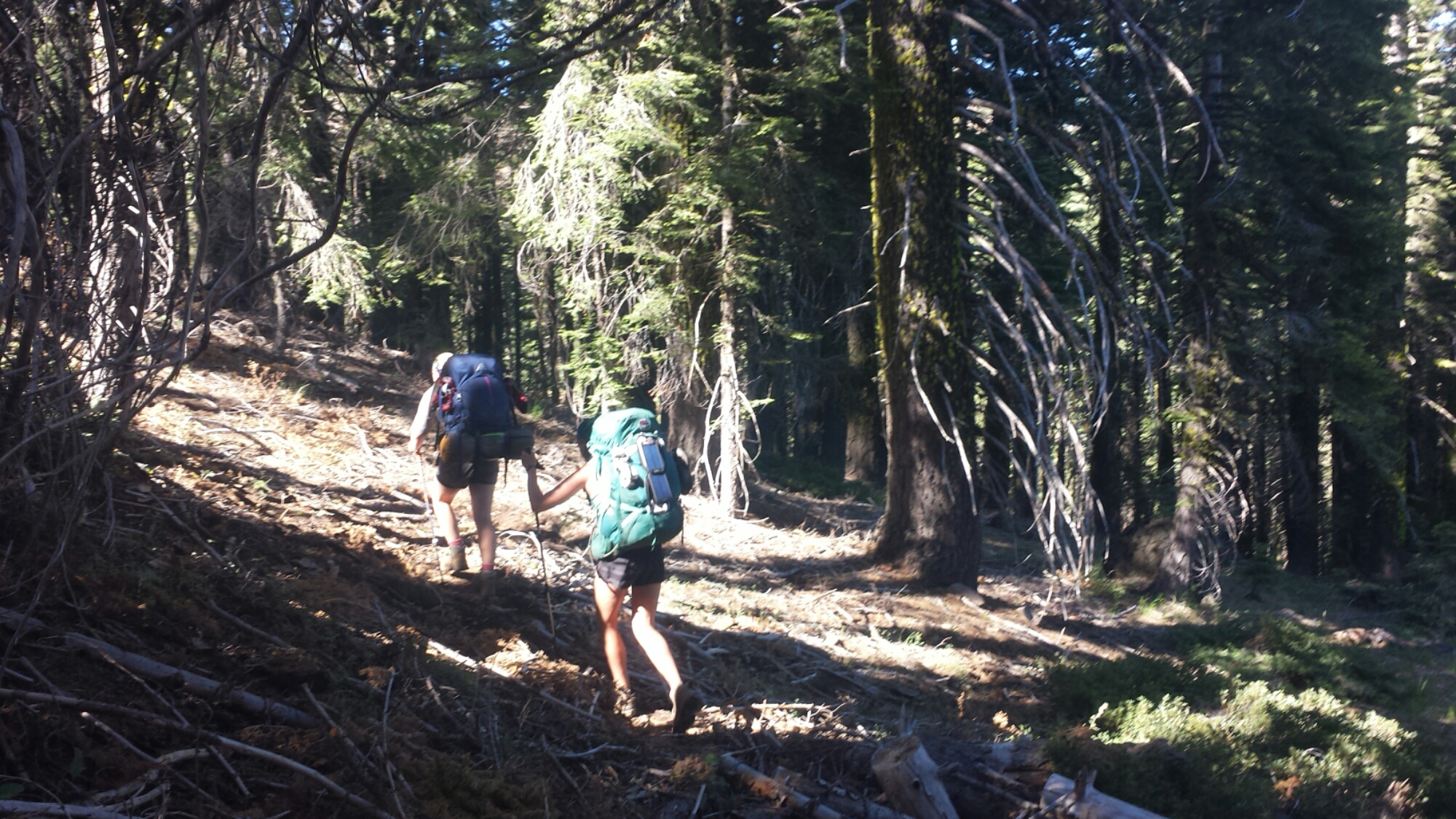 For the last three uphill miles of the day, I turned on some music and popped my phone into my homemade plastic cup speakers. I think I need to make a fresh set because these honeys are on their last legs. I guess rain, sun, and getting smashed by trees and puppies will do that to speakers made out of a paper towel tube and two plastic cups!
"I'll be back" fumbled up to the campsite tonight looking really tired. He immediately ate at least one bar, maybe two before making dinner. We're both in our tents for an early night. He's passed out already, but I'm listening to the deer meander around camp. I've brought all my gear inside my tent because I don't want to wake up in the night finding the deer licking my trekking pole. They like the salt on the handles.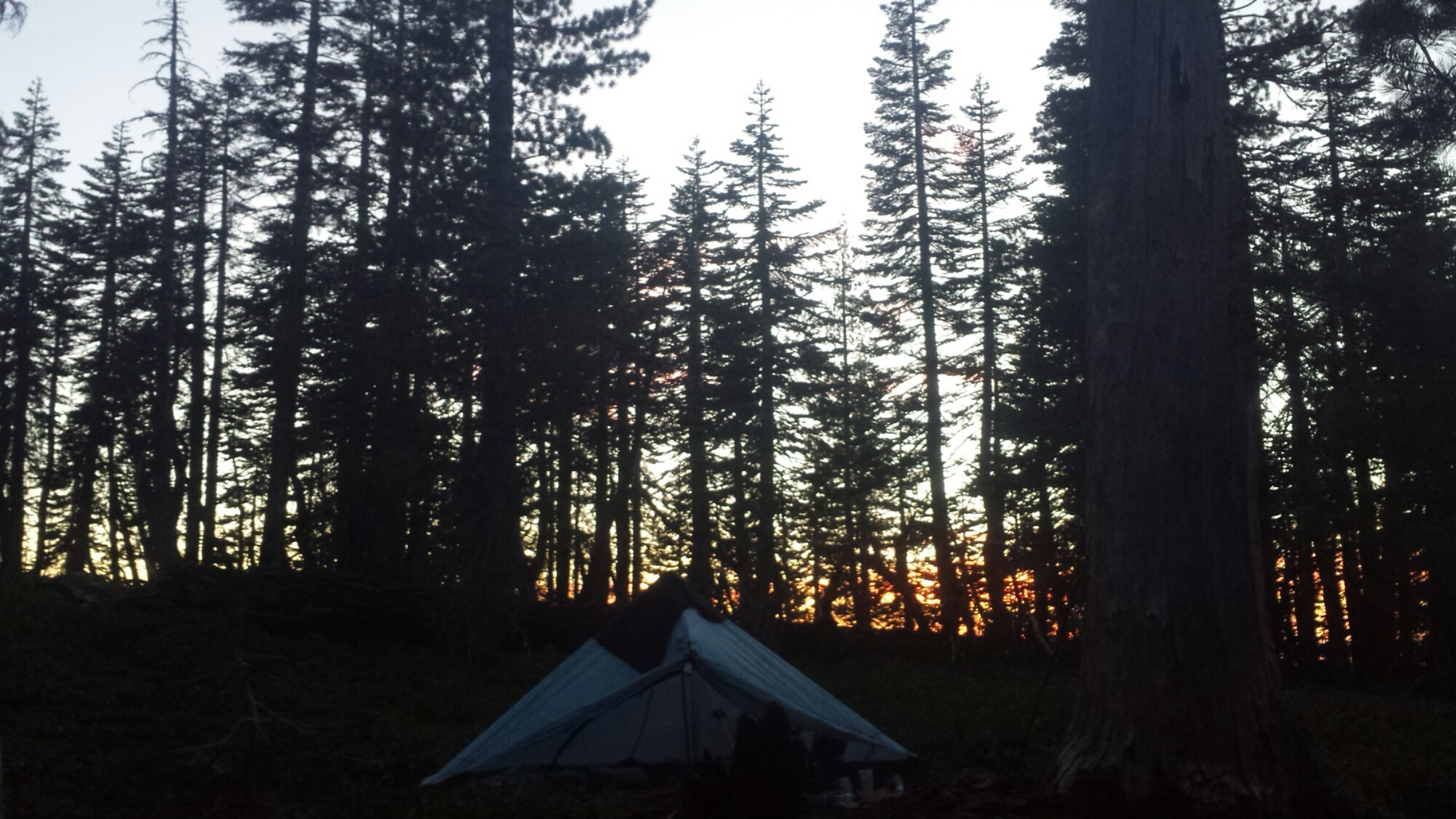 June 14- 20 miles, camping at the North Fork Feather River
Itchy and Scratchy- that's what I'm naming my two legs now. I'm so covered in mosquito bites, that my legs are swollen and it takes all my willpower to resist pulling my own skin off. The only relief I can get is when I take a dip in really cold water to numb the bites and then slather on the anti-itch cream.
I passed the PCT midpoint early this morning. This means I'm now closer to Canada than I am to Mexico. If I were to drive from Mexico to Canada it'd be 1,200 miles.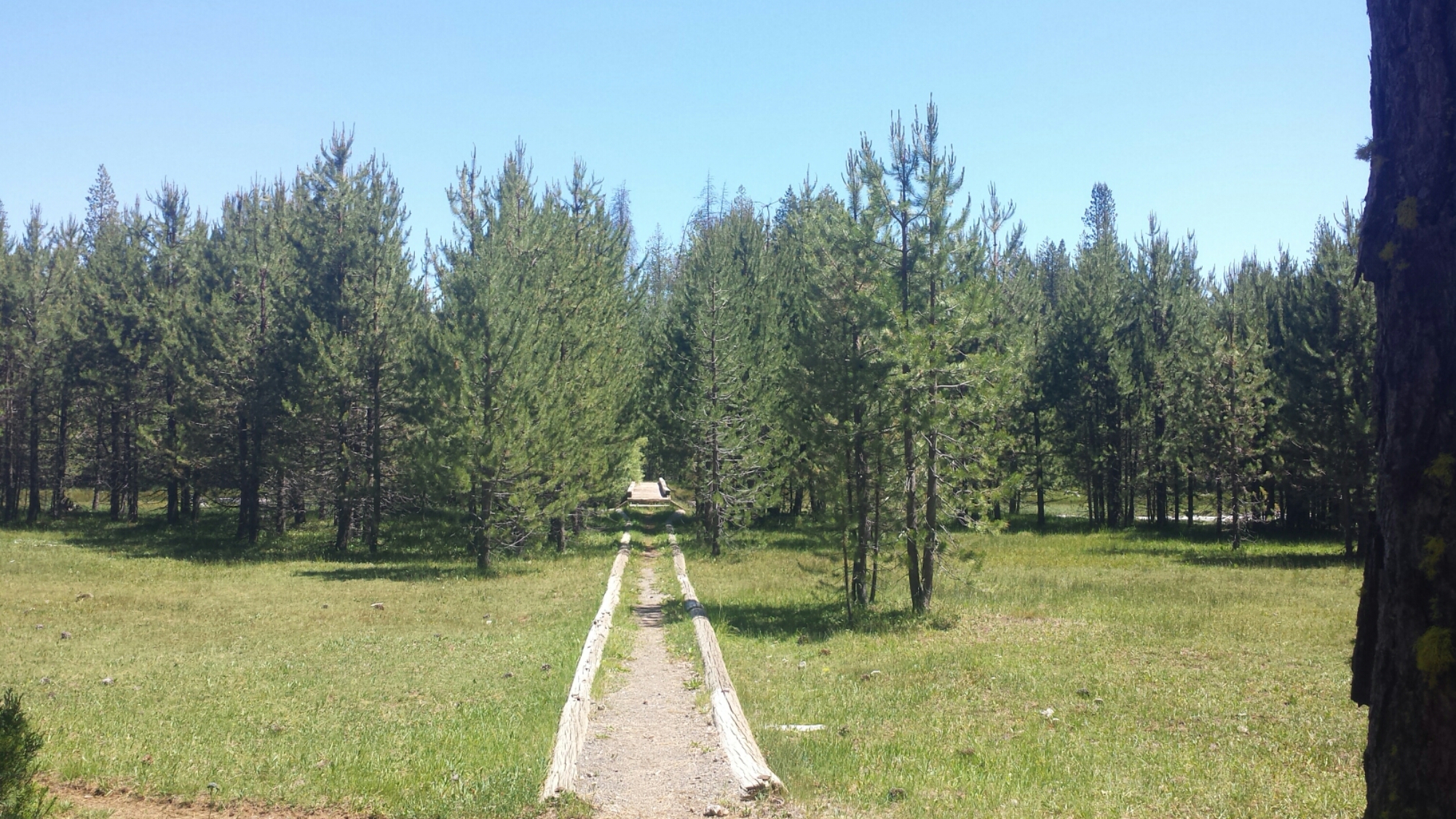 It was a fairly boring and uneventful hiking day. There wasn't much to see between all the trees, except occasionally Lassen and Brokeoff, way in the distance. The PCT doesn't actually climb either of those peaks, which is a shame, but it can be done as a side trip.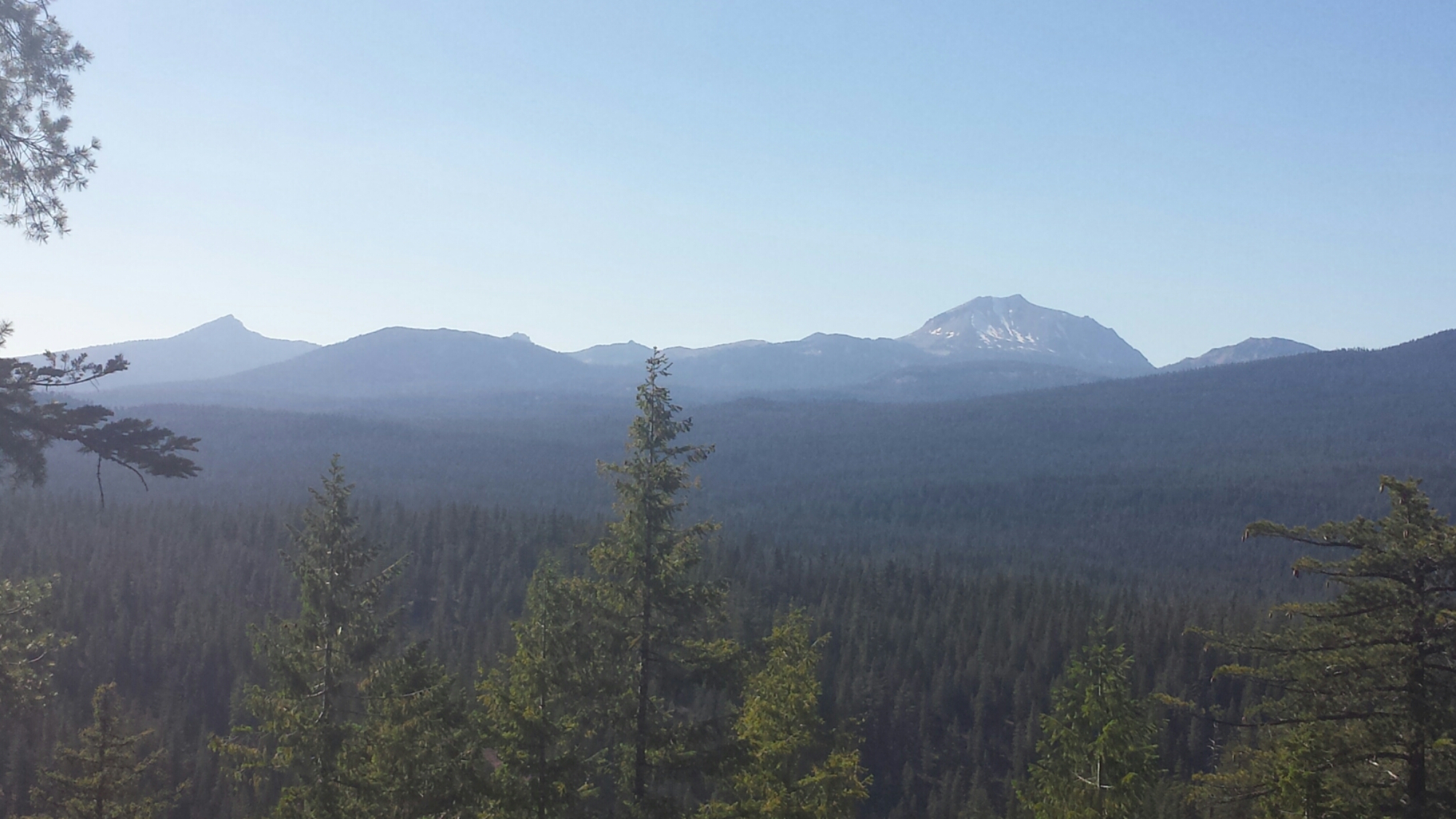 Highway 36 near Chester had some special trail magic: coolers full of water and extra backpacking food, a binder full of information on what the little town of Chester offers, and the contact info for a local trail angel. "I'll be back" was super excited and instantly set to eating a Mountain House meal he found in the cooler.
Our goal for this evening was the North Fork Feather River. It's much smaller than it's two sister rivers, but it's still a lovely place to camp. Unfortunately, there are hundreds of teeny, tiny flies that like to bite hikers, so it's not quite heaven. Tomorrow will be exciting: a geyser, a boiling mud lake, and lunch at Drakesbad Guest Ranch!
June 15- 19.5 miles, camping near Prospect Peak
What a fantastic day! I felt like a regular tourist: sightseeing, eating in a restaurant, and lounging by a pool. We hiked ten miles to Drakesbad Guest Ranch and along the way we visited Terminal Geyser and Boiling Mud Lake. Lassen Volanic National Park has a number of sights such as these and two of them are near the PCT.
We arrived at Drakesbad just in time for lunch. They serve a buffet so we loaded up on salads, fruit, sandwiches, cookies and coffee. "I'll be back" had two sandwiches, a plate of salad, and six oatmeal cookies all by himself. The Ranch policy is that hikers who buy a meal can also take a shower and use the hot spring pool. So, we definitely took advantage of it!
We decided to hike an additional ten miles tonight, but the bugs were absolutely monstrous for about six of those miles. Every time I stopped, they would swarm me- there was no escape. We practically ran for those six miles. I didn't think it was possible to change my shirt while hiking with a backpack, but I did it!
We hiked into the evening and once we were out of the bug zone, it was lovely. The temperature was cool, the trail was soft and gentle, and the stars began to come out- we even saw the space station float by before it dipped below the horizon. We're camping below Prospect Peak, a late-Ice Age shield volcano, surrounded by dead lodgepole pines. There's no wind tonight, so I'm not worried about one falling on me!
Links
Installment No. 24- Drakesbad to Burney, June 2015