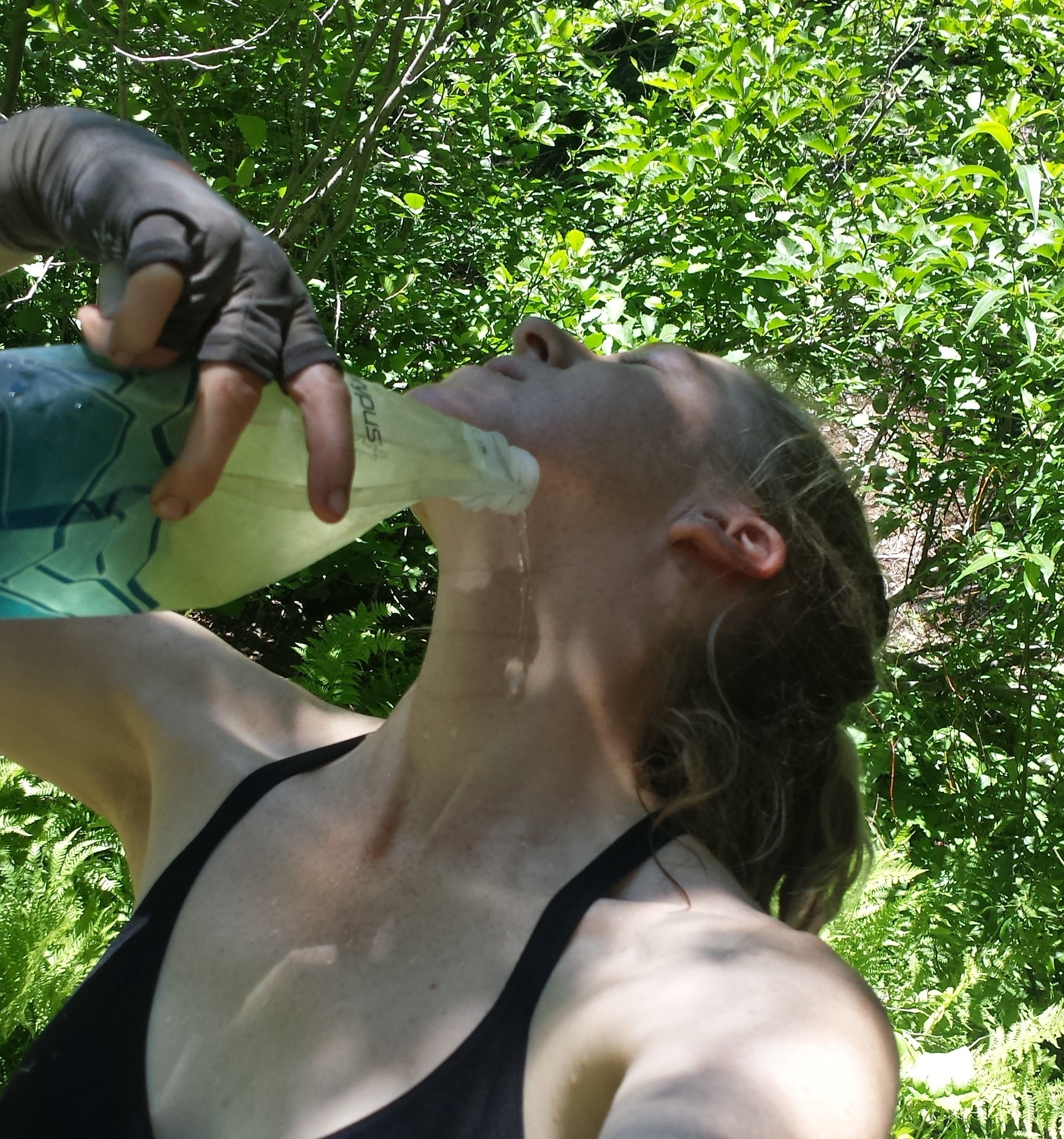 Staying Clean
When I first started backpacking, I took soap, a washcloth, and a towel. Then I started taking moist towelettes. I have since settled on Wysi Wipes.
  They're incredibly small, ultralight, and versatile; and you can buy them in bulk on Amazon.com.  An added bonus is that they're hypoallergenic, biodegradable, and compostable!
My typical routine is to scrub my feet and legs thoroughly with my bare hands at water sources. If permitted, I'll take a full-on dip in the water to wash everything and then dry off with a tiny, quick-drying towel. At the end of the day, I'll add a capful of water to a Wysi Wipe and wipe down my feet and legs again. If needed, I'll use another wipe for any other dirty areas. This habit really helps me relax and sleep at night because I don't feel so grimy.
To clean my nails and the unavoidable grooves in my dry trail skin, I'll use a toothbrush head like a nail brush. I'll carry two Zpack's ultralight toothbrushes: one for my teeth & one for my nails. Just be sure to mark one with a sharpie so you don't get them mixed up.
And no matter how tired you may be, brush and floss your teeth every day on the trail. No one likes stinky hiker breath! I kept floss and my tooth brush handy in an outside pocket of my pack so I could easily floss twice a day and brush three times a day while on the trail. Hikers eat and drink a lot of sugar and that can easily lead to cavities! If you don't like sticking your dirty fingers in your mouth to floss, then bring along flossers
. It's worth it!
Down there…
Keeping your nether regions clean is one of the most important habits, not just for comfort and consideration for anyone nearby with a nose, but also for health reasons. The majority of backpacker illnesses are caused by unhygienic bathroom habits. If you like to really wash it all up, the Boulder Bidet
 is the tool for you.  It's the next best thing to actually taking a shower. I used to use this little bidet, but have since switched to a simple water bottle & Wysi Wipe system.
For the ladies, the idea of carrying around used feminine products until the next trash can is pretty distasteful. An alternative option is a menstrual cup, such as the DivaCup or the Lunette Cup
. This take some practice, but once you've got the hang of them, they work really well. Just be sure to handle them and the subsequent mess in a discrete area away from water sources. Also note, ladies, that there are different size cups those who've had children and those who haven't.
And ALWAYS wash your hands and nails thoroughly after making a pit stop!
Sun Protection
As a freckled, blond person, protecting myself from sunburn is a top priority for me. There's nothing worse than having an painful sunburn, a bright pink face or peeling skin, not to mention dealing with skin cancer later down the road. No matter how thick the layer of dirt is on your skin, you will get sun damage (although, dirt does help!). Even though you want to save weight, it's worth carrying a bottle of sunscreen when you hike. Spray sunscreens work great for quick applications and covering hard-to-reach places.
I tried a number of hats and clothes before I found what I liked best. I began with long pants and long sleeved shirts, eventually tired a long skirt, and ended up preferring a tank top and a short skirt for non-bushy trails. Find a hat that offers as much coverage as you feel comfortable- some of those sun hats can look pretty goofy, but if you find something that works and fits your style, then OWN IT loud and proud! My favorite hat was the Billi Bandana because I could modify it for the weather and my hairstyle.
During my 2015 hike, I took an antioxidant supplement called Astaxanthin. It was recommended by my doctor and made a huge improvement in managing my daily sun damage. It's like a sunscreen that works from the inside out by controlling the oxidation process in your body. I didn't get one sunburn that summer, compared to the previous year, when I used only sunscreen and I was still lightly burned on a weekly basis.
Facial Care
Paula's Choice Skin Care offers sample size packets for nearly all their products. Sometimes I'll throw a couple into a resupply box to give myself a mini facial while in town. I won't use these products while  on the trail because I don't want foreign chemicals getting into the delicate ecosystems of the PCT. They are a special town treat!
Looking Pretty!
Being fair-haired with blond eyelashes and eyebrows means my face rarely has much definition in my pictures. At home, I typically wear light mascara and brow powder, but that would be quite ridiculous on the trail. As an alternative to looking blond and bland, as I call it, I've discovered lash and brow tinting. For around $14 you can have your eyelashes and eyebrows tinted at your local salon- I go to the beauty school because it's cheaper. The tinting will last about 6 weeks and makes all the difference to me.  Once I came out looking rather bushy-browed, so make sure they don't over do it!
In stead of lipstick or blush, try using a lightweight lip & check stain. Once applied, it will often last over a day and will not interfere with your sunscreen or chapstick. My favorite is Revlon's Just Bitten Lipstain, 0.14 Ounce.
<img src="http://wms-na.amazon-adsystem.com/20070822/US/img/noscript.gif?tag=askinthdi-20&linkId=KN7V25DN4YONG2C4″ alt="" />