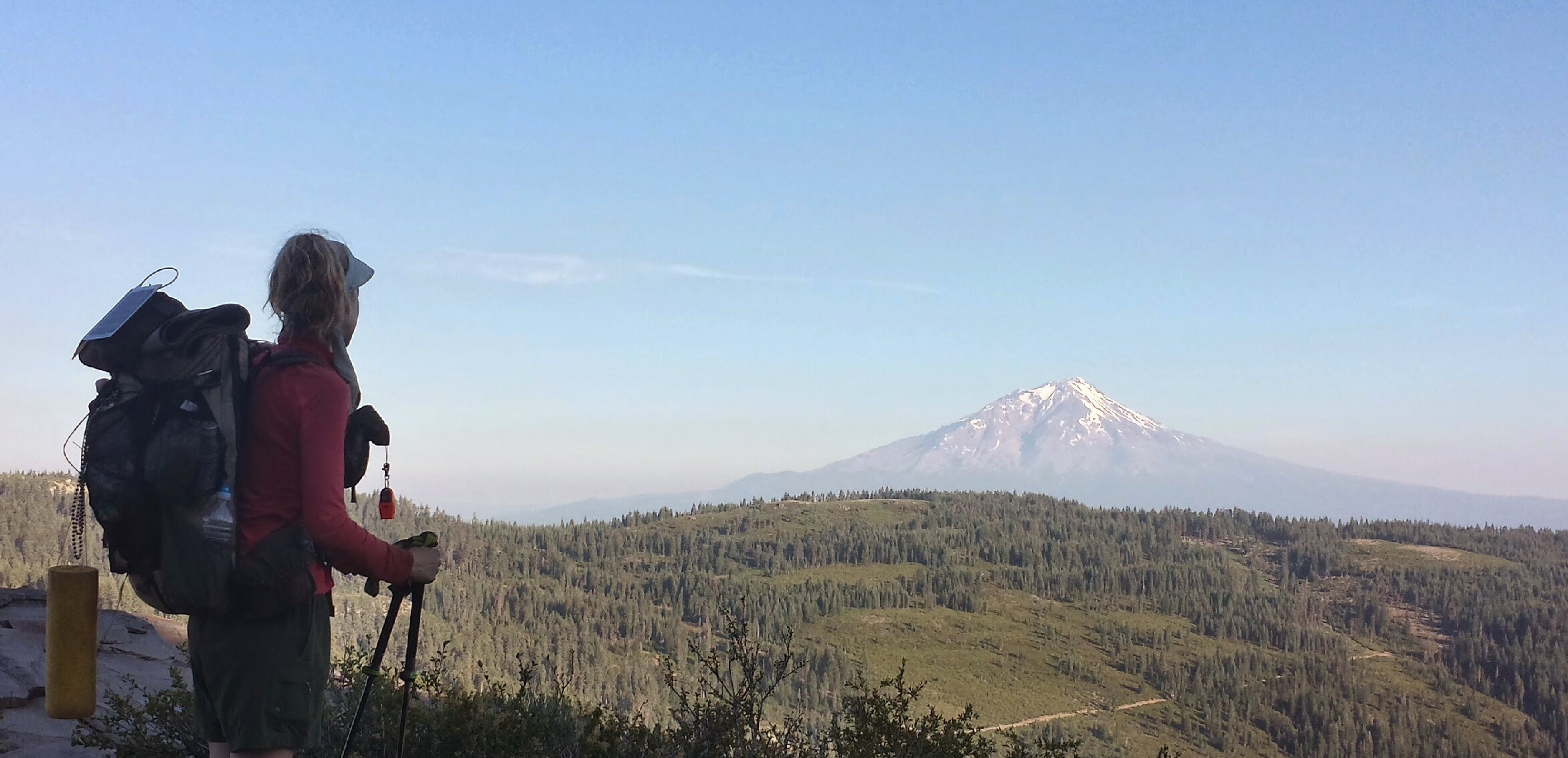 July 12- 9.5 miles, camping at Rock Creek
After updating the blog at Burney Falls State Park, and eating lots of expensive general store food, I finally hit the trail with Butters and JSF around 3:30.  We'd planned to hike thirteen miles to get ourselves up a large climb, but once we arrived at Rock Creek, those plans completely disintegrated.
It had been around 105°F and I was swimming in my own hot, salty sweat by the time we got to the creek.  A husband and wife from Texas, Pixel and Shazam, were already camped there and lounging in the water.  It was so cool and refreshing that we just couldn't motivate ourselves to keep climbing in the heat.  Since there weren't any more spots to camp, Butters and I decided to sleep directly on the bridge.  The bridge made JSF nervous, so he spent thirty minutes trying to make a spot decent enough for his tent.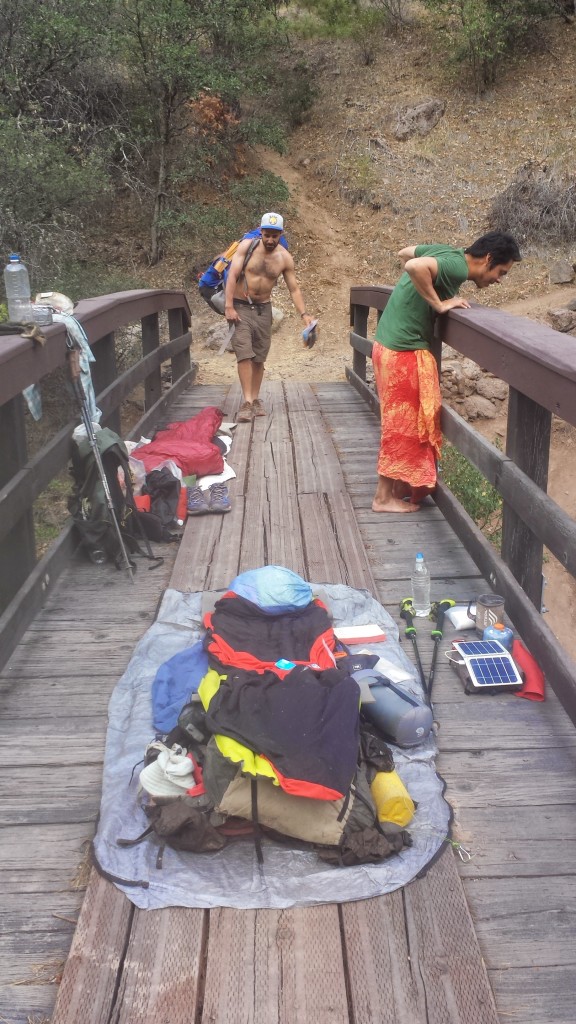 July 13- 24.5 miles
Today went by in a blur.  There weren't many views other than dense, grey forests and it was really muggy all day.  I crossed paths with a PCT hiker who'd decided to turn around and head back to Burney because he'd contracted giardia.  Giardia is a bacteria you can get from not properly purifying water contaminated by animal waste.  Certain areas of the PCT are notorious for having contaminated water because cows roam the land and linger by the water sources.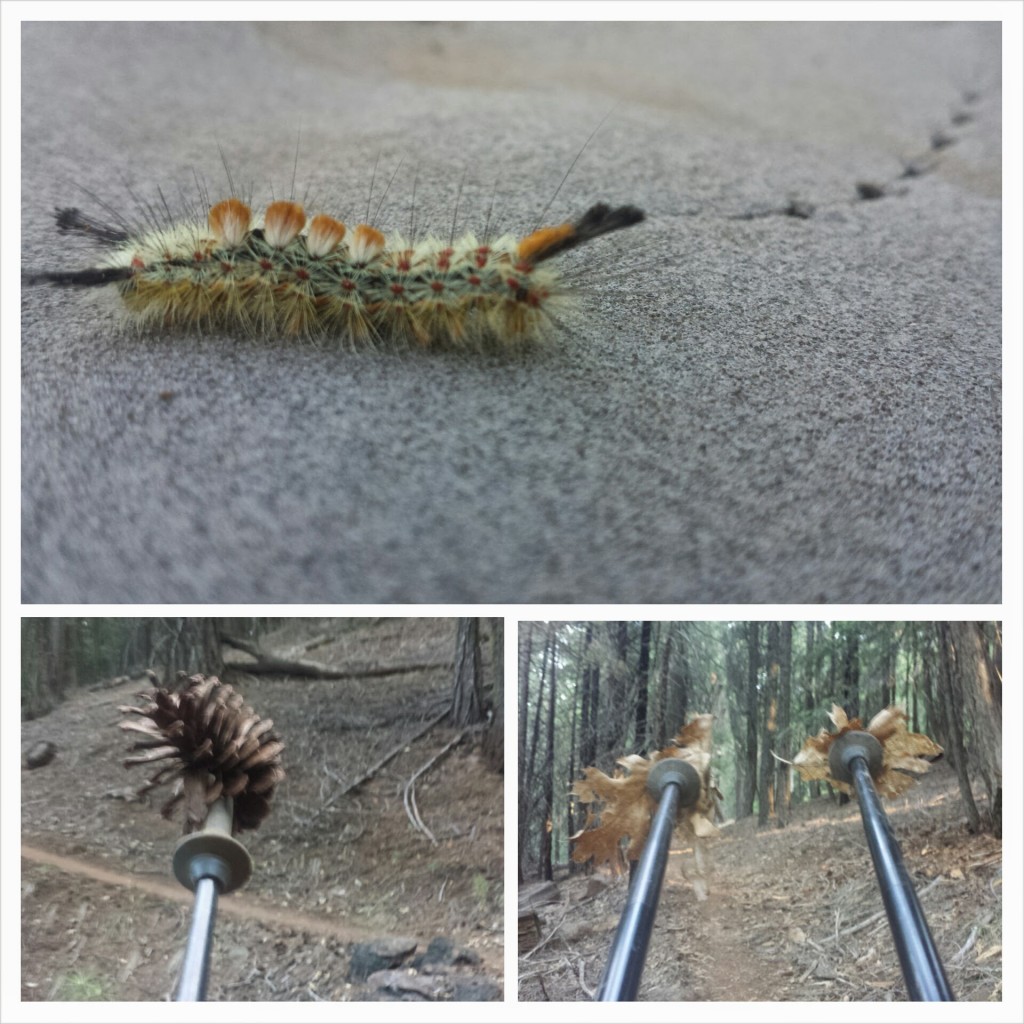 Not soon after, I met a girl named Wardrobe by a stream. She's just gotten back on the trail after taking a break in Burney because of a giardia infection, too! That's the seventh hiker I've heard about getting sick in this region, and since giardia takes 9-15 days to show symptoms, I've been doing the math to determine where everyone may have contracted it.  I've been pretty good about always filtering or treating my water with iodine, and I'm crossing my fingers I stay healthy!
Butters is camping with Duchess and a Southern hiker named Bird Food. I've climbed up the ridge to camp with JSF and Wardrobe. The moon is a spectacular blood red- I hope there isn't a fire!
July 14- 24.5 miles, camping at Fitzhugh Gulch Creek
I woke up to mosquito bites on my face and a wet sleeping bag.  There was so much humidity in the air last night that all of our gear was damp the next morning.  Argh!  JSF traded me half of his Mountain House breakfast skillet for some tortillas, so that made up for the inconvenience of the humidity.  It tasted SO delicious!  We slathered salsa packets from Taco Bell on the egg-hash brown-sausage mixture and it was heaven.
I was happy to have views of distant mountain peaks again as the trees opened up.  Mount Shasta never failed to catch me by surprise as I came around a corner or up over a ridge.  To the south, I could still see a very faint Mount Lassen and couldn't believe that I'd already walked that far from it.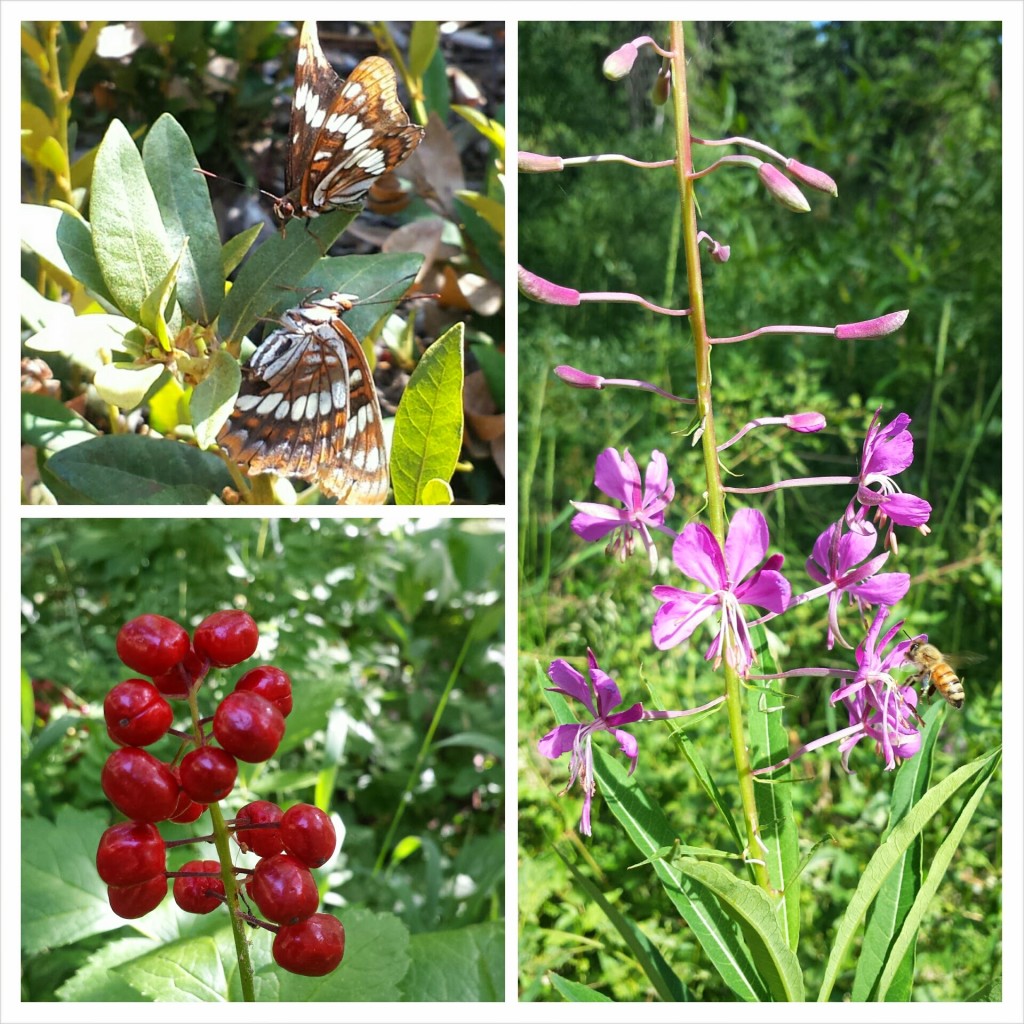 When the weather sucks and your body hurts, the dirt path before you often becomes your only focus. You get tunnel vision as you stare downward and focus on just putting one foot in front of the other. I hiked like this for almost an hour and as I turned around a rocky corner I was startled by the rattle and hiss of a mid-length rattlesnake. He was coiled, cornered between the rock and my path, and his diamond head was looking straight at me. I couldn't jump back fast enough. In fact, I couldn't really jump at all, just fail my piles in front of me as I scooted back. Once he had his space, he slithered across the trail in front of me and down off the trail.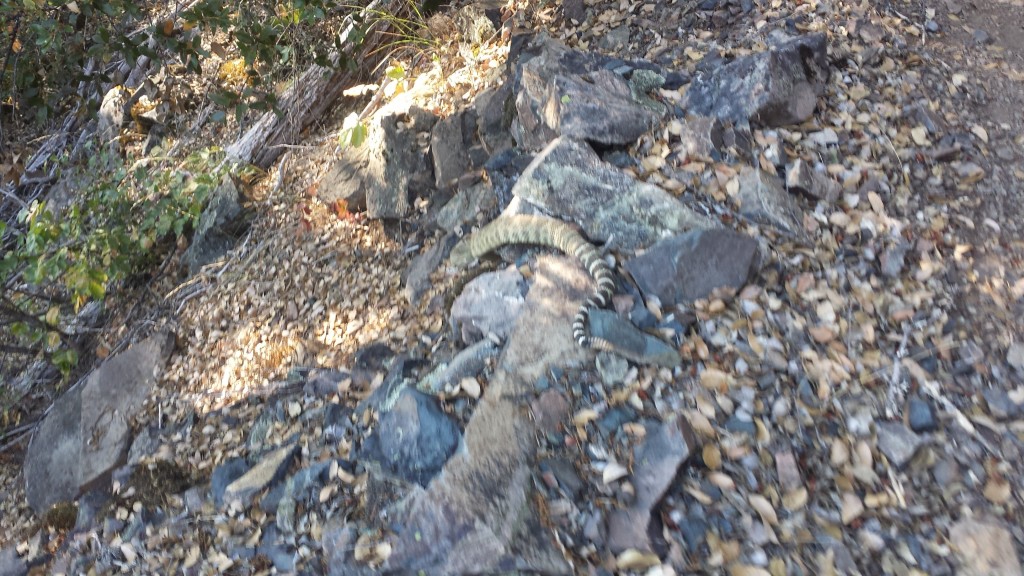 I didn't feel the adrenaline until he was clear, but I suddenly felt how close I'd been to some real danger. A movie played through my head of what might have happened had I not moved fast enough. I was glad to know I had the SOS button on my SPOT right next to me on my pack.
The campsite at Fitzhugh Gulch Creek wasn't as inviting as I'd imagined, being dark, muggy, cramped, and mosquito infested, but Pixel and Shazam were! I set up my tent in a tiny spot directly across from them. Not much later Wardrobe and JSF also showed up and squeezed in around the bushes.
July 15- 28.5 miles, staying in the town of Mt. Shasta
Today turned out to be a double accomplishment for me: my first ten-by-ten AND my biggest milage day to date! A ten – by – ten is when you hike ten miles by 10am. I've never been able to do it because I never woke up early enough or hiked fast enough. It only took the threat of 100°+ temperatures, two big climbs, and the potential of an air conditioned room to motivate me to wake up at 4:30 this morning. I don't see this becoming a regular thing, though. I've noticed there's a proportional relationship between the alarm time and my pack up time. The earlier I set my alarm, the slower I actually pack up.
As I hiked up the second big climb of the day, I could hear Prague Rock coming from speakers above me. I soon caught up to it and met Tuk Tuk and Rickshaw. They are both hiking with carts that strap to their hips and backs. The carts looked pretty cool, but I wondered how well they'd do over the rocky trails of Yosemite Wilderness.
Another bonus accomplishment today was hitting the 1,500 mile mark of the PCT!
As I reached the road that lead to Interstate 5 and looked around at the deserted road with no buildings anywhere, I wondered if I might have to camp for the night or even hike five miles down to Dunsmuir. I was looking at my maps and standing like a deer I the middle of the road when a delivery van pulled up. Paul, who works for the Parks Service asked if I was lost. When I told him I was heading to the interstate to catch a ride to Mt. Shasta. He said, "There's no way you're catching a ride from here. I'll take ya." And just like that, I was on my way into town!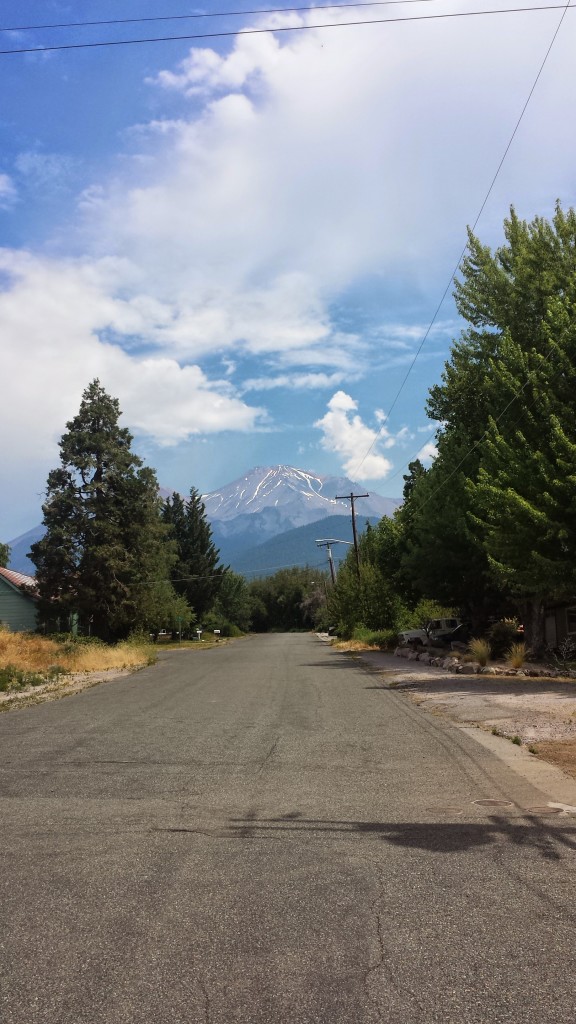 I got myself a room at the simple, but cozy Travel Inn and some diner at a Thai restaurant down the street. I also found the only grocery store in town open past 8pm:
Links
Installment No. 17- Mount Shasta to Etna